There's nothing quite like stepping out of the hairdressers with a salon-fresh feel. An aura of confidence emanates with every step, letting the world know that it's a good hair day. Glossy strands that fall into a voluminous bounce- the salon blowdry seems like an art that only a professional can master. However, many aimlessly run the hairdryer all over and question why the results differ so much. It is, in fact, possible to achieve the silky, sheen look at home. The secret is the right products, attention to detail and knowing how to blowdry the hair, whether it is curly, wavy, or straight.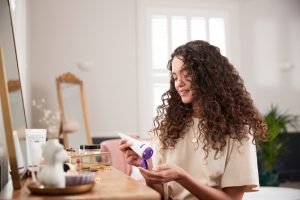 How to blowdry curly hair
Curly, coily tresses are a staple of beauty. However, they are also prone to breakage, frizz and dehydration. Therefore, blowdrying curly hair demands significantly more effort and care than straight or wavy blowdries. After cleansing the hair with a conditioning balm, time should be set aside to prepare the damp hair. The recommended hair product for blowdrying coils or curls is a deeply nourishing leave-in butter. The butter styles the hair for a smooth finish, giving curls a silky shine and helping to hold their bounce throughout the day. The more coils, the more product needed to achieve the right levels of hydration. The leave-in butter should be applied evenly from the root to the tip. Scrunch the curls up by hand to lock the butter in place and give the curl a boost, encouraging its spring.