The nourishing benefits of natural butters have long been recognised in the world of beauty. In fact, it is said that the Egyptian queen Cleopatra believed in using Shea butter to care for her skin and hair. Along with cocoa and coconut butters, these natural ingredients are now found in many formulas that have been designed to hydrate hair and skin. One butter that often gets left to the side, however, is that of the kokum tree.
A versatile ingredient, kokum butter has been used as a natural solution for many concerns. A light, non-comedogenic butter, it has now stepped foot into the world of hair and beauty. Its ability to delicately replenish the hair with moisture without weighing down the scalp should not be overlooked. Keep reading for all there is to know about kokum butter and its many benefits for the hair.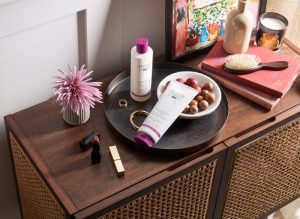 Where does kokum butter come from?
There are a few queries surrounding this foreign ingredient. Firstly, where does kokum butter come from?
Despite the name, kokum butter is actually an oil, one which is extracted directly from the fruit of a kokum tree. The kokum tree is native to India, formally known as Garcinia indica. The uses of its fruit goes beyond hair and beauty solutions, however. In fact, it has been a part of the country's history for decades.
Kokum butter has a light gray or pale yellow tint and is mainly made up of a saturated fats, such as stearic and oleic acids. The chemical structure of this fat allows kokum butter to remain solid at room temperature. This is why it is referred to as a butter rather than an oil.
This butter has a high melting point so instantly softens and liquifies onto the skin or into the hair. This is why Christophe Robin's Luscious Curl Cleansing Balm with Kokum Butter can quickly be transformed into a luxurious lather when massaged into the roots. The weightless consistency is easy to rinse and provides a shiny finish.