Looking for hairstyle inspirations for the holiday season? Discover our hairstyle ideas that will perfectly accessorize your outfits, and our advice on how to achieve them
1. The messy bun
The messy bun is a modern, chic and ultra-feminine hairstyle, ideal for this holiday season …
To achieve it, start by slightly teasing your roots to bring volume and texture to your hair. Then bring your hair back and make a low ponytail – leave a few strands on the contour of the face for a more natural effect – Then, wrap your hair around the elastic and fix them using small hairclips. Finally, if you want to accentuate the fuzzy effect, pull a few thin strands of the bun and apply a tiny amount of the intense regenerating balm with prickly pear seed oil on it to add more texture.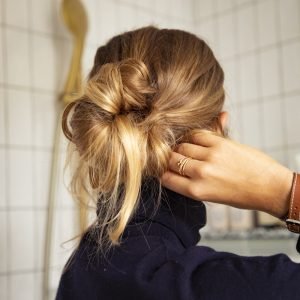 2. The glam ponytail
The ponytail is an everyday hairstyle, we're sharing our tips to make it more gorgeous…
Start by delicately teasing your roots with a comb to get more volume and texture; then bring all of your hair back – higher or lower depending on the desired style – tie your hair with an elastic. Finally, tie a patterned scarf around the elastic.
Our extra tip: Leave your baby hairs and a few small strands free, it will bring a tousled hair effect!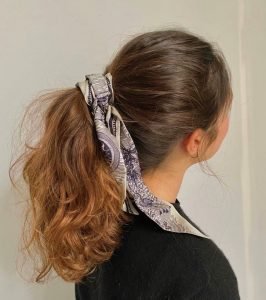 3. Natural waves and chic accessory
For some time now, the hairclip, a trendy accessory in the 90s – has made a major comeback. Here's how to wear it …
Start by curling your hair using your hair dryer and blow-dry brush or with a curling iron (For frizz-free results and to protect your hair from heat, apply the anti-frizz rescue milk with shea butter before styling).
Our extra tip: To achieve natural waves, alternate the direction of your iron.
Once you have made your waves, bring a bit back and tie it with one or several hairclips. That's it! An easy hairstyle that will accessorize your outfit perfectly!