Curly hair is different
Curly hair is very fragile as it is naturally dry. Due to the hair's spiral shape, the sebum is not able to fully reach the lengths and ends, hence hair cuticles stay open and lack nutrition. The hair fiber becomes dry and porous, making hair more vulnerable. As a result, curls are unstructured, hard to manage and frizzy.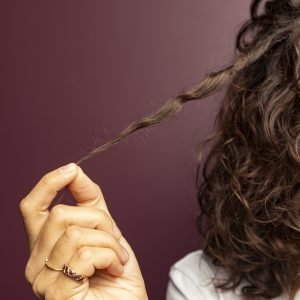 For soft and bouncy curls, changing a few habits can make all the difference!
Here are a few tips to take care of your curls:
1. Choose silk when it comes to your pillowcases:
Thanks to the high number of threads, silk pillowcases create little to no friction and don't absorb the natural sebum of the hair. The curls are not crumpled and stay healthy with their natural sebum, avoiding frizz and split ends. Cotton and linen have a fiber that is a bit rougher, hence can sensitize and dry out hair.
2. Space out your shampoos:
It's better to avoid washing your hair too often, as this allows to maintain your natural sebum which protects your hair – and especially your curls – from damage. The ideal way to do it: try to wash your hair every 3 to 5 days.
3. Let your hair air dry:
Towel-dry your hair with a soft towel, ideally microfibers, to delicately absorb the humidity without damaging hair. Detangle thanks to a wide comb, then let your hair air dry to have defined curls.
4. Use a gentle hair care routine:
To have beautiful bouncy curls, the hair must be nourished and protected. It's important to have a routine that involves highly emollient treatments as well as shampoo with low to no detergent. The Hair oil with lavender nourishes, while restoring the elasticity of the hair and protecting the hair fiber. The Cleansing mask with lemon nourishes and gently cleanses the hair, all the while protecting the hair color.
5. Adopt a styling product that will respect your hair: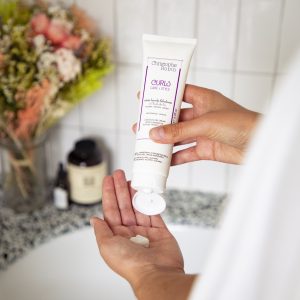 The Luscious curl cream with flaxseed oil, composed of 99% natural-origin ingredients is fragrance, silicones and alcohol free to respect the scalp and hair fiber, and protect the hair on the long term.
Enriched in flaxseed oil and aloe vera to deeply nourish and repair the hair.
The Moringa extract offers powerful nutritional and fortifying properties to both the hair and scalp, protecting them from heat damage up to 440°F, pollution and oxidation.
Nurtured and protected, the curls recover their softness and elasticity. They are more bouncy and beautifully defined. The hair is incredibly soft, easy to style and sumptuous.